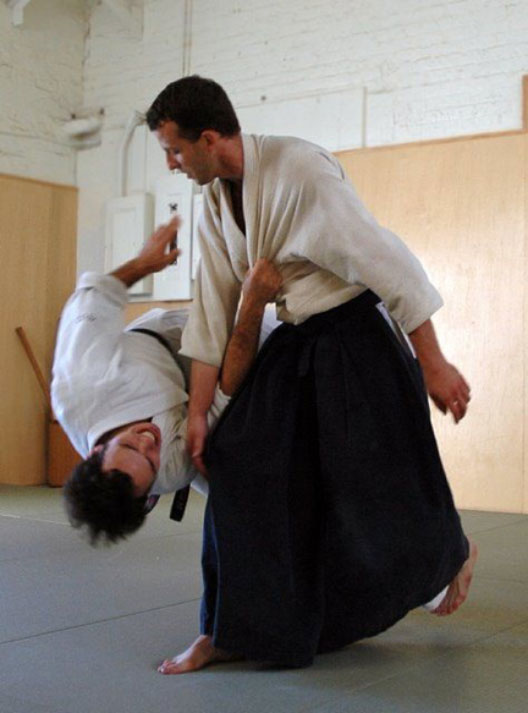 ---
Aikido
---
What is Aikido?
Aikido is a relatively new martial art that emphasizes harmonious interactions between people and their mental energy, and the taking of an opponent's balance while maintaining correct posture. While practicing aikido, two people work together to complete a technique rather than fighting against each other. Students learn how to fall, roll, and how to turn and blend with an attacker's force rather than blocking an incoming strike.
Aikido is a method of self- defense which can be used against any form of attack; it is the discipline of coordinating mind and body to realize all of one's vital power.In
Aikido, we learn to render an attack harmless with no serious injury to the aggressor. It can be used lethally, however Aikido teaches that it is unnecessary to harm the attacker to prevail.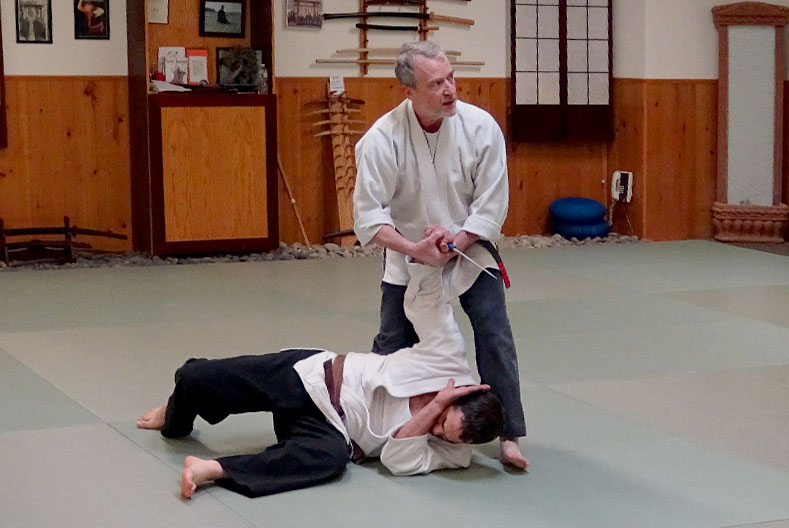 ---
Aiki JuJutsu
---
What is Aiki JuJutsu?
Aiki JuJutsu, in it's classic form, the form taught at River of Life, is a Japanese method of fighting based on the movements of Ken Jutsu, the sword art of the Samurai.
Used for centuries on the battlefield when the warrior was forced to fight without his weapons, it became a discipline of coordinating the mind and body to realize all of one's vital power to turn the attack against the enemy. As such, Aiki JuJutsu is an art of attack, not defense!
This art has proven so effective that it forms the basis of every armed forces combat manual in the world, today and has spawned such derivatives as Judo, Brazilian Jiu Jitsu, Aikido, Russian Sambo, Krav Maga and others.
It encompasses most of the kicks and strikes of Kickboxing and Karate, but relies on throws, sweeps, joint locks and pain compliance techniques giving the Jujitsuka much more control over any attack situation.
Did you know?
AIki Jujutsu uses gravity and positions to counter an opponent rather than physical strength or speed.
The wave (energy transfer)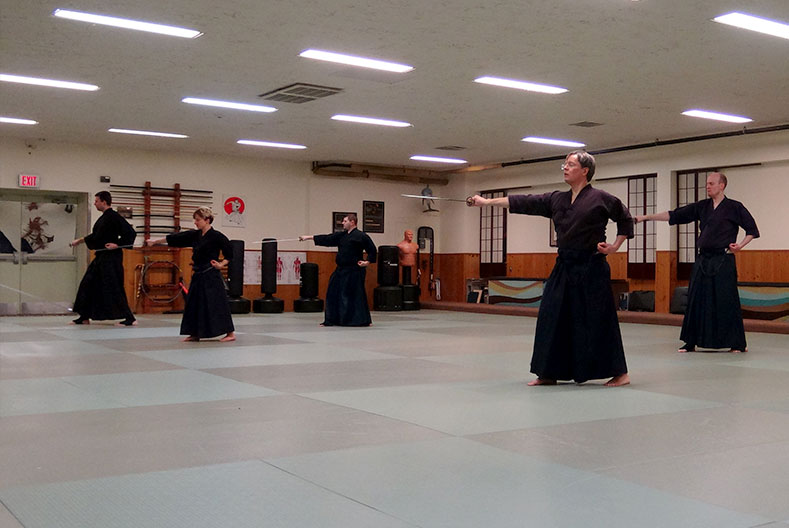 ---
Iaido
---
What is Iaido?
The martial art of Iaido (e-eye-dow) is best translated as "Japanese Swordsmanship". It is the practice of handling a Japanese Katana (sword) and involves drawing the sword, making one or more cuts, cleaning the blade, and returning the sword to the scabbard with concentration and focus.
Iaido is a combative martial art that however involves no direct physical contact with others in the dojo. The study of Iaido is comprised of performing predetermine movements, called "kata", that represent combative situations where he or she is attacked by one or more opponents. All sword kata are performed solo, there is no physical enemy.
There are also person vs. person kata. These are choreographed, with one person defending with the sword against a pre-defined series of attacks performed by the other. For safety, a wooden sword called a "bokken" is used.
As you practice Iaido, you will improve your self-discipline, concentration, coordination and strength. Iaido also focuses our minds on "the moment" and teaches to exclude all interfering thoughts. This focus on the perfection of all one's motions, without being mentally distracted and remaining calm, is the aspect of the art that is easily lost on someone who only concentrates the physical technique as a means to a practical outcome.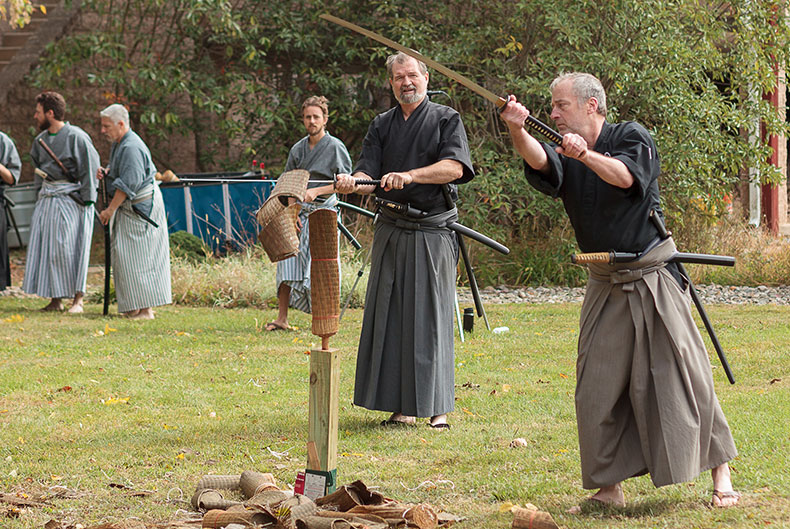 ---
Ken Jutsu
---
What is Ken Jutsu?
One of the most beautiful and mysterious arts is that of Japanese Swordsmanship. Ken jutsu is the art of the Samurai, the combat techniques used for centuries on the battlefield and, yet, relevant today in modern applications.
Iai jutsu are the lightning fast draws and cuts used in duels. Together the techniques and katas are an art the allows the student to develop the strength and poise of the ancient warrior.
All students train by learning the code of the Samurai and sword etiquette. The curriculum includes exercises that teach proper sword handling as well as the unique muscular needs of the Samurai.
Did you know?
Tameshigiri means "test cutting". This practice teaches the student how to make actual cuts in realistic targets with the samurai sword. This practice is extremely dangerous and taught by senior Sensei only.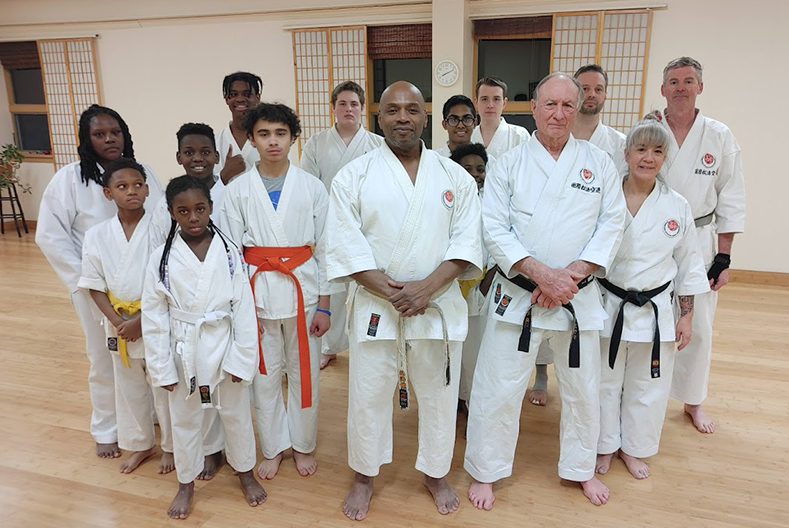 ---
Shotokan Karate
---
Click Link below to learn more
shoshinshotokan.com/
The Fort Washington Shoshin Shotokan karate dojo offers instruction in the traditional Japanese art of Shotokan karate to students of all ages. We teach to a diverse range of students that include grade school, high school and college students, trades professionals, nurses, doctors, accountants and lawyers, homemakers and others; some are as young as 7 or as old as 70, with most in between those ranges.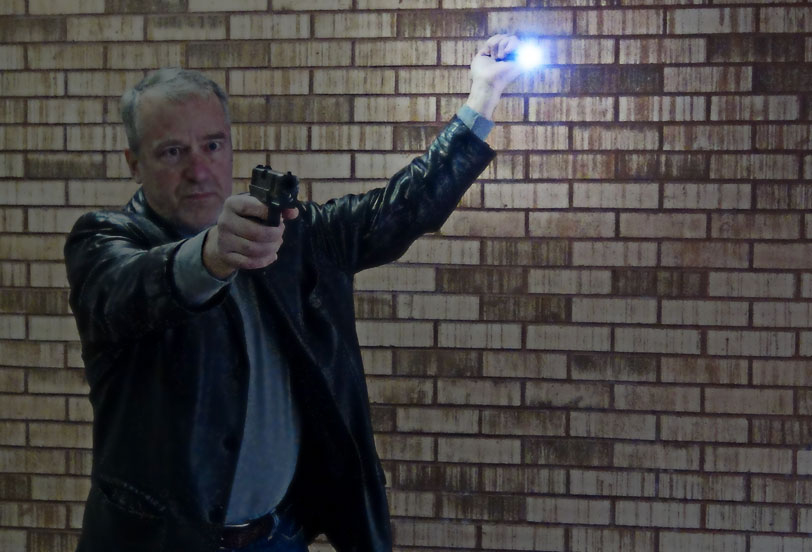 ---
Pistol Defense
for Home & Self
---
What is Pistol Defense, for Home & Self?
A course stressing the basics of range safety, draw, grip, sighting, using either hand to take maximum advantage of available cover, low light and shoot/don't shoot situations.
This course forms the necessary base for the James Williams Sensei pistol seminars and requires a full metal gas operated Airsoft pistol, holster, extra magazine, gas, Airsoft pellets and a tactical flashlight.