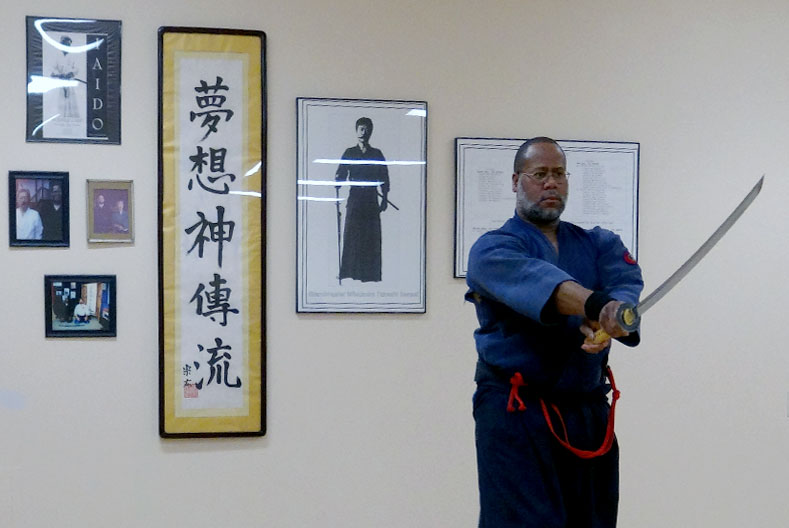 ---
Iaido
---
What is Iaido?
The martial art of Iaido (e-eye-dow) is best translated as "Japanese Swordsmanship". It is the practice of handling a Japanese Katana (sword) and involves drawing the sword, making one or more cuts, cleaning the blade, and returning the sword to the scabbard with concentration and focus.
Iaido is a combative martial art that however involves no direct physical contact with others in the dojo. The study of Iaido is comprised of performing predetermine movements, called "kata", that represent combative situations where he or she is attacked by one or more opponents. All sword kata are performed solo, there is no physical enemy.
There are also person vs. person kata. These are choreographed, with one person defending with the sword against a pre-defined series of attacks performed by the other. For safety, a wooden sword called a "bokken" is used.
As you practice Iaido, you will improve your self-discipline, concentration, coordination and strength. Iaido also focuses our minds on "the moment" and teaches to exclude all interfering thoughts. This focus on the perfection of all one's motions, without being mentally distracted and remaining calm, is the aspect of the art that is easily lost on someone who only concentrates the physical technique as a means to a practical outcome.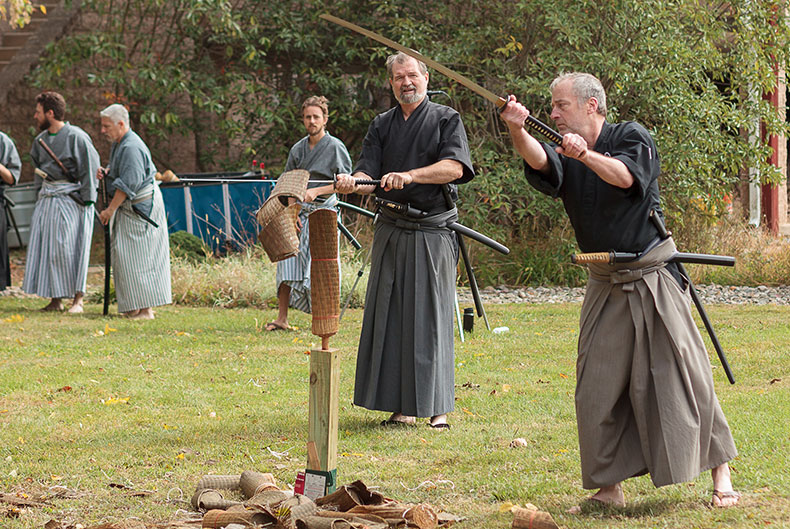 ---
Ken Jutsu
---
What is Ken Jutsu?
One of the most beautiful and mysterious arts is that of Japanese Swordsmanship. Ken jutsu is the art of the Samurai, the combat techniques used for centuries on the battlefield and, yet, relevant today in modern applications.
Iai jutsu are the lightning fast draws and cuts used in duels. Together the techniques and katas are an art the allows the student to develop the strength and poise of the ancient warrior.
All students train by learning the code of the Samurai and sword etiquette. The curriculum includes exercises that teach proper sword handling as well as the unique muscular needs of the Samurai
Did you know?
Tameshigiri means "test cutting". This practice teaches the student how to make actual cuts in realistic targets with the samurai sword. This practice is extremely dangerous and taught by senior Sensei only.