ANCIENT JAPANESE SAMURAI MARTIAL ARTS
Master Kenjutsu Weapon Work with James Williams
With James Williams, Sensei
June 11th, 12th, 13st 2021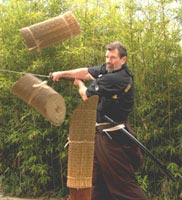 Learn the ancient Japanese samurai martial fighting skills that are still effective for today's modern world. We will be working on principles for weapons: Sword and Knife work, as well as empty-hand combat: ground escape techniques and aiki-jujutsu. This is a great opportunity to explore and practice the principles that make Kenjutsu and Aiki Jujutsu effective for modern protection and conflict resolution.
Kenjutsu, Aiki-jujutsu
To Register, call Jason at River of Life dojo: 215-542-0102
Early Registration 20% discount! Register
before June 4th

to get this discount!
Entire Weekend $250.00
Friday June 11th, 6:00 p.m. - 9:00 p.m. $75.00
Saturday June 12th, 10:00 a.m. - 5:30 p.m. $125.00
Sunday June 13st, 9:00 a.m. - 4:30 p.m. $125.00
If traveling from out of town, please inquire about staying in one of our two rooms here at the facility or renting space on the mats. Surrounded by multiple townships, there is no shortage of good restaurants all within a 15 minute drive.
James Williams Sensei is the Kaicho of Nami Ryu Aiki Heiho. With over 50 years of martial experience, James' love of samurai martial traditions came with his study of the Yanagi ryu of the Yoshida han under Don Angier Sensei and the martial traditions of the Kuroda han as taught by Kuroda Tetsuzan Sensei. James also studied Daito ryu Roppokai with Okamoto Seigo sensei. Nami ryu is based on the ancient armed and unarmed martial arts that were the exclusive secret of the Samurai nobility. Later these arts formed the basis of modern arts including Brazilian Jujitsu and Aikido.
---